Yesterday two new reels arrived in the post from the States, they are Daiwa TD-Sol 2500, similar looking to the UK TD-R but better spec.
I decided to visit a local club lake that is full of carp and roach, There is a sunken island in the middle full of tree roots that holds a lot of carp and this would be perfect to give the reel a good workout.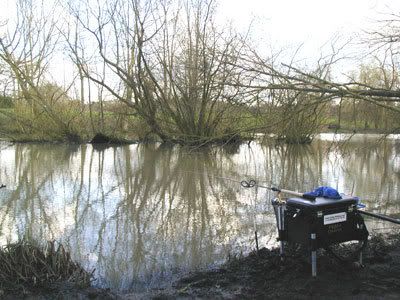 I set up a very simple rig a small 2.5AAA stumpy bodied waggler, attached to this was a size 18 Kamasan Animal hook to 0.14 line, this was set to fish just touching the bottom, bait and feed was 6mm expanders, I also had some 6mm hard pellets and maggots. The rod was my favorite Carbonactive 11ft float.
I started by catapulting a few expanders out by the trees and the float was cast over the top, it was slow going at first but by feeding a few pellet little and often I could see a few carp fizzing arounds the float, I was soon into a fish this small common.
I was soon picking up a few small carp and the odd bigger sample of a couple of pounds with 6mm expander hookbait, after about a hour or so I notice I was getting lots of liners after feeding and the fish had come up in the water, shallowing up to 18 inches deep I was now picking up a bigger stamp of fish with some running to about 5lb, I changed the hooklength to a hair rigged bait band, attached to a small pellet waggler and stuck on a 6mm hard pellet, feeding 5-6 hard pellet at a time, I was able to cast and feed 2-3 times twitching the float causing the bait to rise and fall with the feed, now every cast was producing a fish! The swim was alive with fish now swirling at the feed and it was more like fishing on a hot summer days.
A little trick that works in the summer and sort out the bigger fish is to wrap the pellet with paste, so out when a pouchfull of pellets followed by the paste and it hit the water and the rod was almost draged out of my hands! The culprit was this nice looking common the biggest fish of the day. I will let you guess the weight as I dont carry scales.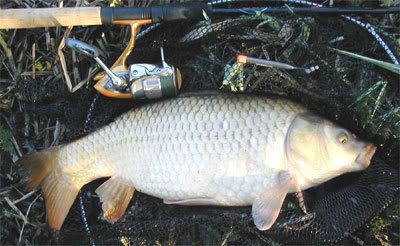 Fishing for the rest of the afternoon was easy really just feed cast and hook a fish! they were in a real frenzy, who says you can't catch shallow in the cold? I didn't have a keepnet with me but I would guess I had well over 200lb of fish!! This was a massive weight as it is not a stocked commercial im fishing.
The few trips I have had out this winter the carp have always been willing to feed shallow on the waggler, even in the coldest of weather, you just have to be confident and give it a try.
The reel got a good test and was excelent, smoother and lighter than the Daiwa Capricorns I have been using, a perfect match with the 11ft rod.