I just can't see how the float company's have the nerve to charge £2 for a pellet waggler, all it consists of is a straight bit of balsa dowel.
This prompted me to make my own, I had some old plastic float eyes left from the days when I used to make all my own wagglers, a trip to the local model shop for some fluro paint, cellulose dope to seal the wood, some meter lengths of balsa, and I was ready.
Here are my mk1 NJG wagglers, cost was a few pence each.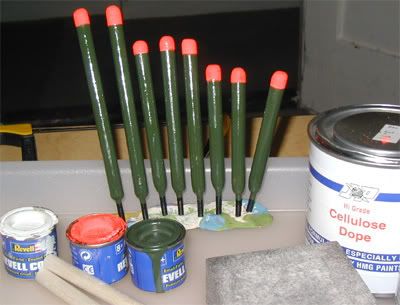 This prompted a trip out to try them, as Vince from the Maggotdrowners Forum was off to Hartleylands today I was going to join him.
I decided to fish peg 23 on Nicks Lake, there was a stiff breeze blowing which would make things interesting. I had my usual Carbonactive 11ft float and TD-Sol reel. I used one of my pellet wagglers that took 4.5 AAA, this was a nice size to chuck to the island.
It was quite cold in the morning and it took a hour to get the carp feeding well, but a steady stream of 6mm pellets eventually got them going. I deepened up bit by bit until I started to get bites at around 2.5 feet. once a good number of fish had arrived in the swim I stepped up the feed rate and was soon catching plenty of small 1-2lb carp at around a foot deep.
I fancied a change after a while so stopped fishing the waggler and set up the pole, I plummed up at about 7 meters at the bottom of the shelf and used a Carpa Chimp float hook in the loop style, and also a smaller float for the margins.
Vince turned up as I was just about to start fishing the pole and had a go on my float rod, he was soon catching one a bung! After a while he handed me back the rod and I started on the pole, I was busy explaining to Vince why I use a number 10 elastic even for bigger sized carp and how you can land them no problem, I tried for quite a while to hook a carp to demonstrate but all I could catch was small skimmers!
Vince eventually left and just as he got into his car I hooked a big lump! I had the fish in the net after 30 seconds and here it is about 8lb ish.
I managed a few more carp and nice sized skimmers on the pole at 7 meters and down the margin over the neext few hours.
I had one more thing to try, it was a float I made for when the fish were feeding very shallow, it is just over 3 inches long but takes 4.5AAA so casts well, I caught well on it too, remeber you saw it here first!