I was down the Medway again Wednesday evening for the Maidstone Victory match, the river looked spot on with a bit of colour and flow. I was hoping for a draw on the high bank so I could catch a few bream but it wasn't to be and the golden arm failed me for the second week running! I ended up on one of the weedy swims downstream of the bridge. Good for roach and a couple of seasons ago I would have been confident of winning off, but times have changed and bream seem to dominate the results lately with 12-20lb+ winning all the matches. If you target roach you are looking at 8-10lb so you will probably frame but not win.
So faced with a peg that may or may not produce a few bream the tactics were chosen with this in mind, I selected a 1g float to fish a bulked rig nailed near the bottom so I can just edge it through. Hook bait will be corn as I know this will pick up roach and bream,but not as many roach if you fished hemp and tares but maybe around the 5lb mark. Add to this 3-4 bream and I will be looking at around 12-15lb to hopefully win the match.
The whistle went and I threw in 5 balls of groundbait laced with corn and hemp, the plan was to lose feed corn over this for the duration of the match, this was working quite well at the start and I was picking up the odd roach, a hour and a half into the two and a half hour match I had about 4lb of roach in the net so things were going to plan, as the light faded it was now or never for the bonus bream so I deepened up a bit and just edged the bait through slowly in the hope a few moved in for the last hour, and they did, in fact I caught 10.
Now for the flaw in my tactics, they were only about three ounces each!!!!
The scales come along and I weighed in 5lb 1oz. 10lb consisting of 3 bream was winning so not surprisingly I was well out of it and in second place, by the end I was bumped down a few more places into forth. Not a bad result but still pools fodder for the second week running. Three evening matches and I haven't managed to win yet, the fishing at Barming has changed and I just can't seem to beat the feeder guys but I don't like to sit there all evening for 4-6 fish I like to keep busy and catch a few.
Mote Park Monsters!

With the week off work I decided to take a trip down the park lake for a few hours Thursday. My wife decide to come down and be photographer for the day.
I selected a swim on the wall and had the whole 30 acre lake to myself.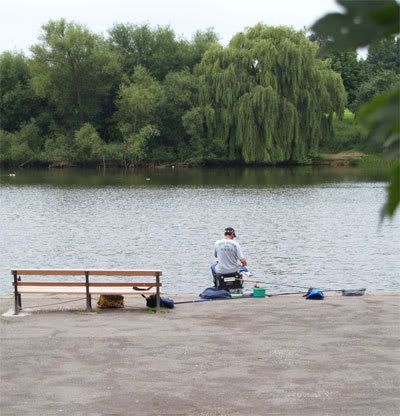 I brought a feeder and float rod and was going to do a bit of both. I started on the waggler with a simple rig, 2.5AAA insert peacock, lightly shotted to fish on the drop in about 8ft of water, I attached a 0.08 trace and a size 20, 511 hook. Feeding maggots little and often I started to pick up a few roach to around the 12oz mark on single maggot. After a hour or so I thought I would have a spell on the feeder to try and catch a few bream.
The rig again was simple, a free running plastic Drennan cage feeder, attached to a 0.12 trace and a size 16 hook. Bait again was maggots and a groundbait mix that I have been using for years that never fails me on natural water when bream are about. It consisted of a third each of Sensas Lake, Roach and brown crumb, added to this is a good helping of ground hemp quite possibly the best bream attractor around. This is always mixed up well before use so it is not too active and rises in the water.
Lobbing this out about 50-60 metres into the lake and clipping up, I then put out a few feeders full to get a bit of bait down. I then cast out, stuck the rod on a rest and sat on my hands! Easy this bream fishing lark!
It wasn't too long and the tip started jumping about, now you know why I sit on my hands. Eventually the tip pulled round and the rod jumped of the rest and I was into one, it eventual come in and turned out to be a big skimmer. A few more of these arrived all un-missable pull rounds on the tip after a lot of line bites, but then it went quiet.
The tip suddenly went round a slight bit and just stayed there without moving, springing back it all went slack and I had hooked another one, not a skimmer though this time a proper one. After a short scrap I slid the net under one of the big old fish that live in the lake.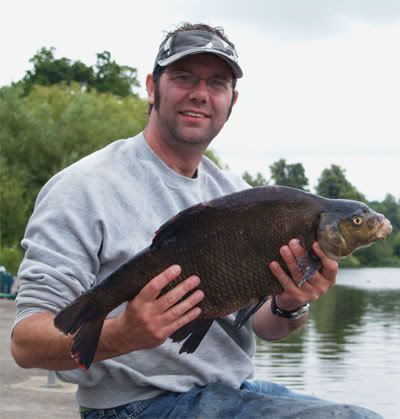 This one went straight back as I think they are a bit big to retain in a net, casting out again I had another and again this went straight back.
I had another two of the monster bream before calling it a day, a good few hours fishing with the 4 big bream and these roach and skimmers to go with it.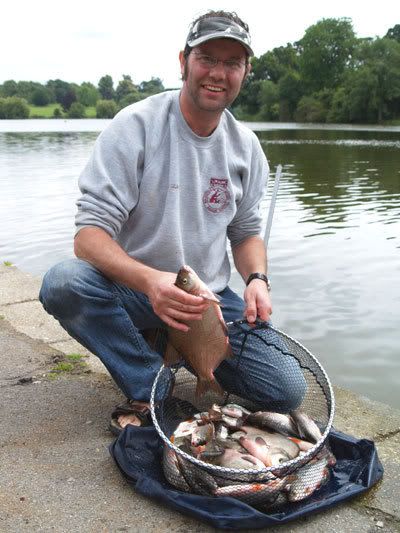 Not bad for about four hours fishing.
What a great lake that is only a few minutes down the road from me.