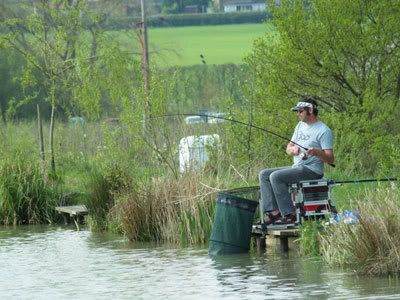 I was off to my favourite match venue today to fish with the Maidstone Town league a local club I joined this year. There are a number of reasons I rate Hartleyalnds so much as a match venue. For a start it looks nice with plenty of bankside cover. You can potentially win from anywhere in the summer on Nicks, Bramley, or Pear Tree lake. Added to this there are no silly rules and you will encounter the best conditioned carp you are likely to catch. Today I was on Pear Tree the lake I used for my Pellet Waggler write up for Southern Angler. The lake is roughly rectangular in shape with two islands running down the middle giving you roughly a 25 meter chuck to them.
I arrived and discovered there will be quite a few fishing with nearly every peg in. At the draw I pulled out peg 13 that put me about halfway along one of the two islands that run down the middle of the lake. There was a light cross wind and there was only one method I was going to use here today and that will be the pellet waggler. In my opinion this method is unbeatable here during the warmer months if you have an island to chuck to. Today I was going to try out some Styrofoam waggler I had knocked up, only 3 inches long and taking 4-5AAA they were a perfect size.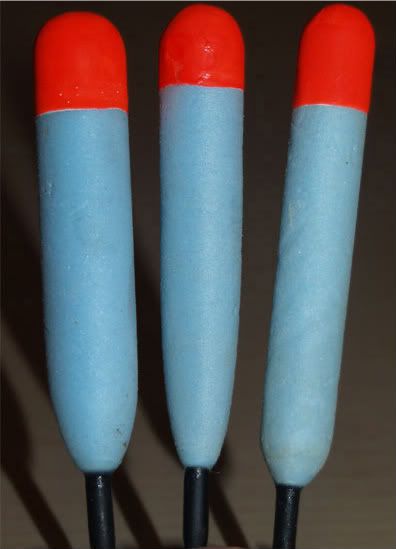 I set up my two 11ft Carbonactive rods, one set to 8in deep, and the other 12in. both had Mr Crappie 4lb main line, with a 0.16 trace. Attached to this were a size 16 Fox carp hook and a hair rigged bait band. I also set up a bomb rod with a new set up on the end to try that I will tell you what it is another time and a top kit and number 4 section to drop in the margins.
Today I had 6mm pellets for bait as they will easily reach the island and I prefer this size here if I can get away with it. Also some 6mm expanders to feed the margins and a bit of paste.
The all in was called and I put a good handful of pellet in each margin and fed a dozen pellets just short of the island, starting on the 12in deep rig it wasn't long before I got my first bite and a small carp of about a pound was in the keepnet, the carp seemed to respond to very frequent feeding today, about 10 pellets every 10-15 second, I had a very good first hour putting 20 small carp in the keepnet! Things slowed up during the next hour and I found an 8mm hook pellet seemed to get a bite quicker than using the 6mm that I was feeding. I could see a lot of carp in my swim waiting for the feed and the shallower rig produced more bites.
I needed to constantly change bait size and cast around the feed to keep the fish coming. You would only get a bite if the bait was moving and once it had hit full depth it was ignored. I had to feed then drop the float on top, if I didn't get a bite after about 5 seconds feed again and slowly twitch the bait through the lose offerings. This way most cast came back with a fish on the end.
About half way into the match I hooked a bigger fish, at about the same time Yalding Bloke from the Maggotdrowner Forum turned up, I think he came round to see how I fished the waggler but I gave a good demo of how not to land a big fish. Keeping the rod low I slowly got it in netting range without too much trouble. I missed it with the net and the fish promptly went berserk and it took me another 5 minute to get it in the net!
I continued to feed the margins and had a quick look every now and again if the waggler swim went quiet, this didn't produce any fish, but if you do this and continue to feed without fishing when you go back over with the waggler you will often get a several fish quickly.
I was counting the carp today and 15 minutes before the end I had 102! I decided on one last look down the margin before the end for a lump. I hooked on two 6mm expanders and wrapped them in a big lump of paste and dropped it in to my right. The float jumped about a bit so I know there was something down there, the float suddenly went under and I was into a good carp. This time I demonstrated how to land them properly and holding the pole low the fish came back to me and a quick lift and one about 4lb was in the net. I had another couple of bites and bumped one down the edge and that whistle went to signal the end. I had 103 carp, 1 rudd and a barbel!
I guessed I had about 120lb and I wasn't too far out for a change and put 145lb on the scales. It turned out to be easily enough to win as 79lb was second so a good result for the waggler at Hartleylands.
The Styrofoam floats worked well too, although I think I would have still caught as much on a balsa one. I could always jump on the bandwagon start selling them at £2 a go!!
Im back here next week fishing a big open match with all the lakes in, i quite fancy peg 9, 23, 25 or 32 on Nicks lake.