I had a few hours spare today so decided to visit one of my local Maidstone Victory club waters, Wierton Reservoir is a excellent water full of carp to well over 30lb, plus stacks of bream, perch, roach and rudd.
I brought a new Drennan medium feeder rod last year and haven't used it yet so thought this was the chance to give it a try! I mixed up a bit of BCUK groundbait and was going to have a go with a method feeder for the bream. I also brought my carp rod and was going to have a go at catching a carp off the surface.
I selected a swim with about a 40 yard chuck to the island and planned to feed mixers here while having a go with the feeder.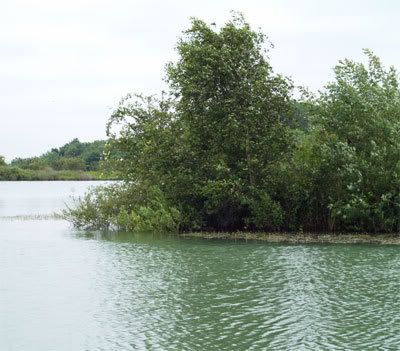 On the method feeder rod the bait was going to be double 6mm expander, I loaded it up with groundbait and lobbed it out about 30 yards and within 30 seconds the rod went round and a decent size skimmer was in the net, I stayed on this method for a hour or so and caught several bream.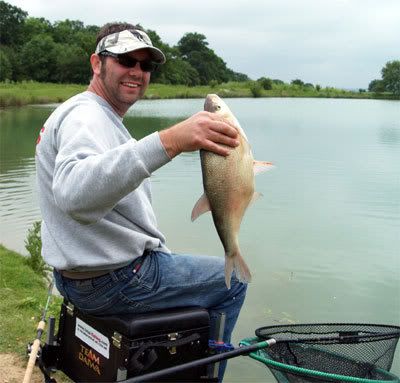 By this time I had the carp taking mixers out by the island so gave up fishing the feeder. I had my old carp rod set up ready to go. This rod is a museums piece; it's an old North Western 2lb TC rod dating back to the 1980. I like it for floater fishing cos it is quite soft in comparison to today's modern rods and you very rarely lose a fish, I matched this with a 12lb mainline, a 5g Drennan controller, 10lb mono trace to a size 10 Drennan barbel hook.
Pinging out about 6 mixers at a time I recon I had about a dozen fish out by the island taking them. Ranging in size from 5lb to getting on for 30! I spent the next 2 hours trying to single out one of the bigger fish but could not get one take. I tried double and single hair rigged mixer, double and single soaked with the hook buried in them. Eventually I got round to trying a weighted fake mixer on the hook, these are slightly weighted so they sit with the hook on the top. I gave up trying to target the bigger fish and just lobbed this into the middle of the feeding fish. The mixer landed just at the edge of the island weed bed and I had a take imidiatly!
I want sure the size of the fish as it kept deep and the rod was bent double as I tried to hold it out of the far bank weed.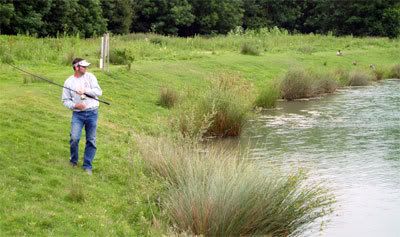 It felt like a good size fish but as it come towards me I realise it was one of the ghost carp that live in the lake and these seem to fight harder than most, so wasn't as big as I first thought. After a few minutes I managed to get the fish in the net.
Here it is a nicely marked fish. I would think around the 15lb mark, I dont really bother weighing anything if it dosent look over 20lb and forgot to bring my scales anyway!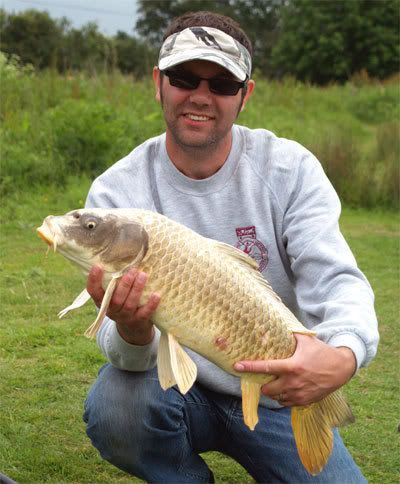 It started raining so I gave up fishing after catching the carp, but I did get a quick photo of the bream I caught in the first hours fishing. Would have had a big net of them if I didn't get distracted by the carp!
All photos taken by Deborah Gilbert