I was off to Devon on holiday to visit my father in law, who happens to live 10 miles up the road from Stafford Moor. So a couple of waggler and a feeder rod complete with tackle found there way into the car! Also 16 pints of 8mm coarse pellets, 8 pints of 6mm, and some ground pellet to make up some paste.
I planned to have a days fishing so thought I may as well fish the Sunday open, so turned up at the lake just as the draw was starting. I handed over my money and pulled out peg 36 on Woodpeckers and was promptly told by some of the locals it was one of the best pegs on the complex!
It was right round the far side of the lake and didn't know what to expect as I have never seen the lake before, when I eventually got there I must admit it did look spot on for the waggler with about a 30 yard chuck to a point of an island and there were several carp moving about. As you can see it it was raining!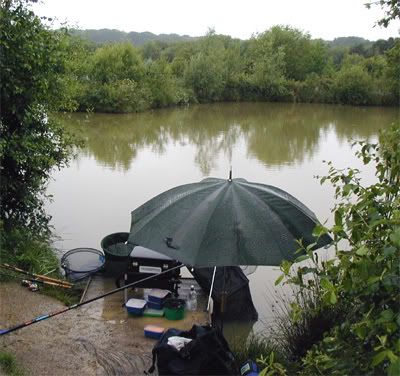 I discovered by having a quick chat with one of the locals a couple of pegs along that the straight lead had been doing well on the lake using a 8mm dark high oil pellet as bait and feeding the same. I noted his advice but had my own ideas of what I was going to do.
I set up 2 waggler rods to fish shallow one set to a foot deep the other set at two foot. These both had one of my 4AAA home made wagglers attached to a 0.18 trace and a size 16 Fox hook with a hair rigged bait band attached. I also put up a lead rod to fish hair rigged pellet that had a 0.20 trace and a 14 Fox hook. I was fishing quite heavy compared to my local waters as the fish run big here apparently.
The start was signalled and I was going to kick off with the waggler, out went a pouch full of 6mm pellets followed by my float with a 6mm hook bait, the float settled and immediately went under!!! A quick strike resulted in hooking my first carp; I had been fishing for about 10 second! Another minute later a 5 pound carp was in my net. Unfortunately after this fish the swim seemed devoid of any life apart from small skimmers that were grabbing my pellet. Stepping up to 8mm pellets cured the skimmer problems but I had no carp for over an hour. I continued feeding pellets every 15-30 seconds in the hope of eventually drawing a few fish in, this sort of worked and I had another one. But that was it for another hour.
Over two and a half hours into the match with only a couple of fish a change was in order, so it was out with the lead rod, I stuck on a 8mm pellet then wrapped it in a big lump of paste, fired out about 20, 8mm pellets then cast on top. I went to put the rod on a rest and it was nearly torn out of my hands with a very savage bite, I got this fish under the rod end and the hook pulled out so I was not pleased. Doing the same thing again I immediately hooked another one, this time it made it into the net with another 4 of its mates in the next 20 minutes. Things were beginning to look up as even the rain had stopped and the sun was out.
4 hours into the 6 hour match and a good spell of catching for an hour I was on 15 carp. But the sky started to darken and it was raining again, or should I say monsoon! It was hammering down and it seemed to kill the fishing. I struggled for the last couple of hours and only managed another 5 carp. At the end I had the feeling I had not really fished the peg to its full potential and should have had a big weight, but on the other hand it may not have held the numbers of fish the locals seemed to think it did on the day I was there, who knows?
The scales eventually came round and my 20 fish went 79lb, so not a bad weight really for a first visit and an enjoyable days fishing, this put me third in the section on the day.
I was impressed by the lakes at the fishery as they all looked superb and will be back next time I am down that way hopefully with a better result.